Chocolate Bark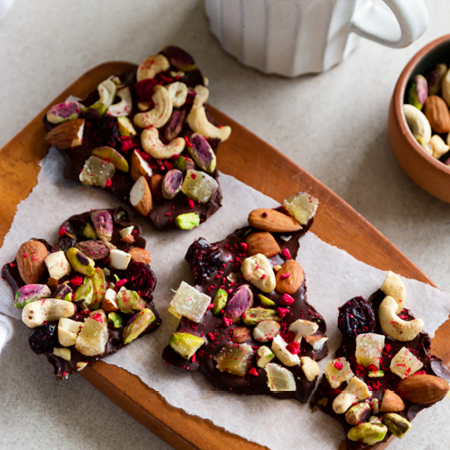 Ingredients
250g Donovans Chocolate Drops (your choice of dark, milk, white or caramel)
1 cup of toppings of your choice
Topping ideas:
Chopped nuts
Dried fruit
Pretzels
Coconut
Seeds
Mini marshmallows
A pinch of flaky sea salt
Method
1. Measure out and chop up (if necessary) all toppings so they are ready to go.
2. Melt the chocolate in a microwave-safe bowl in 30 second increments at 50% power, stirring after each one. Don't rush this part. The chocolate is done when it's almost completely melted—keep stirring and the pieces will disappear. (Alternately, you can melt the chocolate in a heat-proof bowl over a pot of gently simmering water.)
3. Line a large baking sheet with baking paper. Pour the chocolate onto the sheet. Use the back of a spoon to spread it out to about 5mm thickness.
4. Sprinkle on the toppings. Work fast so that the chocolate doesn't start to set. Use your palms to lightly press the toppings into the chocolate.
5. If you're in a hurry, place the baking sheet on a flat surface in the refrigerator to harden for about 15 minutes. If you're not, let the chocolate cool at room temperature for 2 to 4 hours, until completely hardened.
6. Break into pieces, and store in an air tight container at room temperature.